The Mosaic of Autoimmunity – MAI Award, is a bi-annual award established to encourage progress in autoimmunity research.
Three young scientists will be awarded with Research Grant funding to their institutions for scientific projects in order to further develop their contribution to the field of autoimmunity through outstanding, creative and independent research.
The award ceremony for the MAI Award 2024 will be held during the 14th International Congress on Autoimmunity in Ljubljana on 17-20 May 2024. Selection is made by an International Scientific Committee comprised of well-established authorities within the autoimmunity disease fields.
Main Prize: up to $30,000 and an invitation to present a lecture at Autoimmunity 2024 Congress.
Two Additional prizes: up to $10,000 and an invitation to present a lecture at Autoimmunity 2024 Congress.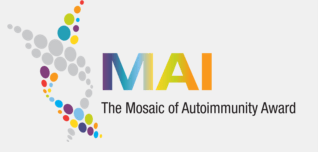 Application start: 1 October 2023
Application deadline: 15 January 2024
Please note that the candidate should submit the abstract and be registered to the congress.
SUBMIT YOUR APPLICATION
Quality and impact of scientific publications (= H index)
Is the planned research in the forefront of international efforts?
The quality and level of independence of the previous and planned research
Candidates must be up to the age of 40 as of 1 October 2023
Canidate should submit the abstract for AUTO24 Congress
Guidelines for Application/Nomination
You can either apply for yourself or nominate somebody with his/her consent regarding the nomination and submission of personal data as described below. The candidate should not yet be an established scientist (not a head of department or professor).
Your application / nomination must include the following personal details:
​Full name
Date of birth
Institute/Hospital
Department
Full address
Phone
Fax
Mobile phone
E-mail
Present official title/profession/position
Degree
You will also be asked for the following:
A motivational cover letter (half a page) why you / nominee should be a candidate for the Award.
A list of all the candidates' publications, divided into originals and reviews.
Highlight  3–5 of his/her most important articles.
Add a description of the Research Project including estimated detailed budget:
Introduction with background on the relevance of the research
Project objectives
Descriptions of methods
Milestones, expected timeline and use of budget
Expected impact on the scientific and medical field of autoimmunity and how the research will impact patients with autoimmune diseases quality of life
Ethical approval
References
The application needs to be endorsed by the Institution which will be the recipient of the Award payment.
Add the Institution name, contact details and bank account details of the Institution that will receive and administer the Award money.
The Award is granted under the conditions:
Winner and his/her Institute/Hospital enters into a Research Grant Agreement with the supporting company
Winner reports about use of the Award funding
Unused funding is returned or used for other approved Research Grants.